Which pornstar has the biggest tits in porn? There are many adult film stars around and each has their own bust, either natural or by means of plastic surgery. Some would say the bigger, the better. And then there are those who make it a sport to have the biggest boobs in porn. With so much steep competition in the adult industry, you have to stand out one way or another.
Who doesn't remember the late Lolo Ferrari who gained international popularity due to her many plastic surgeries and massive boobs measuring in at 58F! Of course it has to be your fetish. Not everyone can appreciate huge fake tits, some simply like them all natural or at least naturally looking! Nevertheless, we're all too familiar with the never ending debate on who has the biggest tits in porn.
To us, it doesn't really matter if they're huge fake tits or naturally massive boobs, there are enough men and women alike that just can't get enough of them. Good looks and a toned body, complemented by a huge rack makes for exquisite beauty in their eyes. Most pornstars are judged solely on the basis of their boob size, by audiences obsessed with breasts. Therefore we're giving you what you're craving.
A top 10 list of the pornstars with the biggest breasts in porn. Although the majority of this compilation consists of huge fake boobs, some are actually blessed by mother nature and boast massive boobs without the odd visit to the doctor's clinic. And for those wondering why cam model Beshine hasn't made the cut, who is widely regarded as having the biggest fake tits with a 59L cup size, we simply do not consider her a pornstar.
Although she did some solo work for the Score Group, it would be unfair to others who had a by far more impressive body of work to include her. Trust us when we say that we looked around and came up with 10 names that deserve due credit. This doesn't necessarily imply that all of them are porn superstars though, but they surely possess the biggest tits in porn. And yes, some of them do appear to be providers!
Top-10 Pornstars with Massive Boobs
#10 Claudia Marie (50J)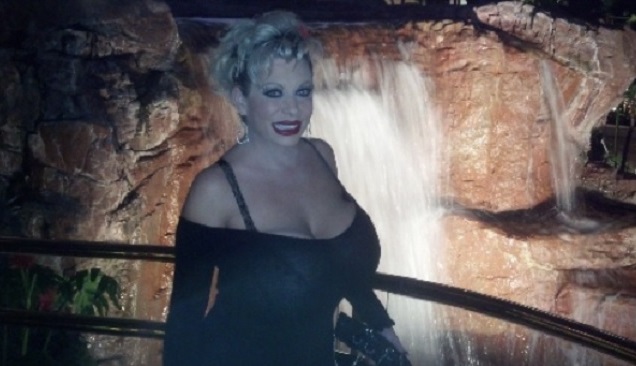 Well, since we're discussing the biggest boobs in porn, let's talk about the busty MILF Claudia Marie. She uses her super flexible and wide jaw in most of her scenes, watching her perform oral sex is a real treat. Her hairs are curly and white, which give her a very unique touch. Apparently one surgery was not enough to satisfy her, as she decided to go under the knife a second time in 2011 and now measures huge heavy breasts with a 50J cup size. Claudia loves to perform in both lesbian and straight sex scenes. She is also gaining popularity in MILF scenes due to her massive boobs and mature looks.
#9 Lucie Wilde (34L)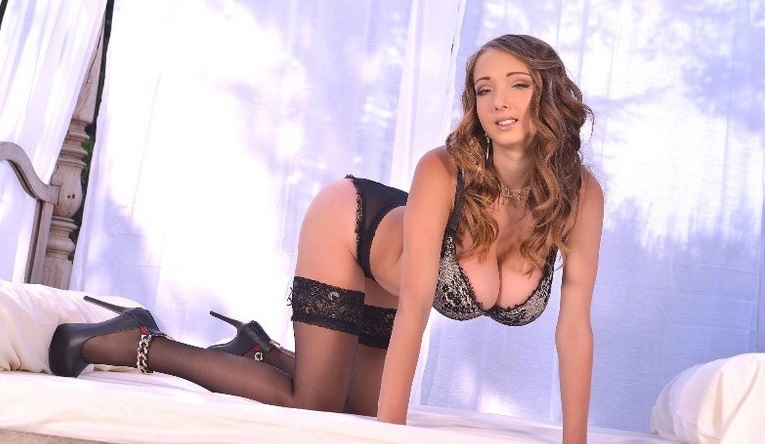 This babe had to work hard and earn her second name in the industry, as she is really feisty and wild when it comes to bedroom affairs. Relatively slim and yet equipped with some of the biggest tits in porn, her boobs at times come across as fake. Don't be fooled by her sex appeal, it's all real and natural. In 2014 she confirmed in an interview with BoobsRealm.com that her bra size is 34L. She loves to star in lesbian scenes as well, paired with other huge heavy tits of the industry. Prime Cups, DDF Network and Pornstar Legends is where she is mostly seen.
#8 Hitomi Tanaka (46JJ)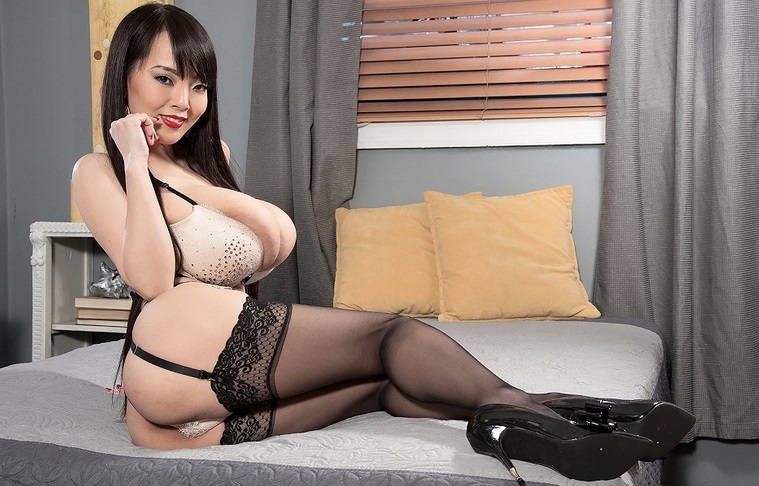 We're sure it comes to you as no surprise that this porn queen and Japanese cult figure has made the cut, Hitomi Tanaka has some of the biggest tits in porn. She kicked off her porn career in 2008 with the video Celebrity Shock AV Debut. Soon, her big bust and luscious figure made her a fan favorite. In November 2014, she confirmed on her Instagram account that her bra size was 46 JJ. Hitomi is working on her English and has a keen interest for football. Some of her critically acclaimed works include Lady Who Straddles and Talks Dirty, Mrs. Jogging 3 and Let Me Sharpen You Up.
#7 Amy Anderssen (40HH)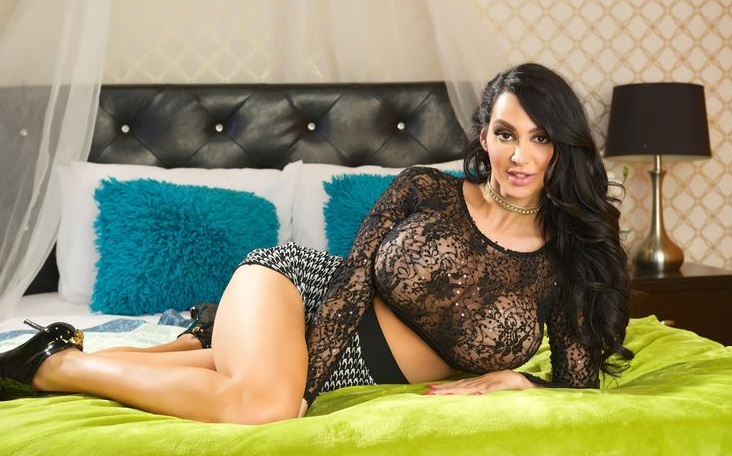 Let's jump straight to the point here. Amy Anderssen is equipped with massive boobs! 40HHs to be precise! Soon after losing her virginity she got such an addiction for sex that she decided to share her talents with the world and launched her porn career. It didn't take long for her to notice that she would be left behind in the race if she didn't do something about her tits and hence, she went under the knife 5 times to get some of the biggest fake boobs around. Her earlier work displayed her insatiable appetite for sex, where she is mostly seen doing rough sex, bondage and bukkake scenes.
#6 Sandra Star (42K)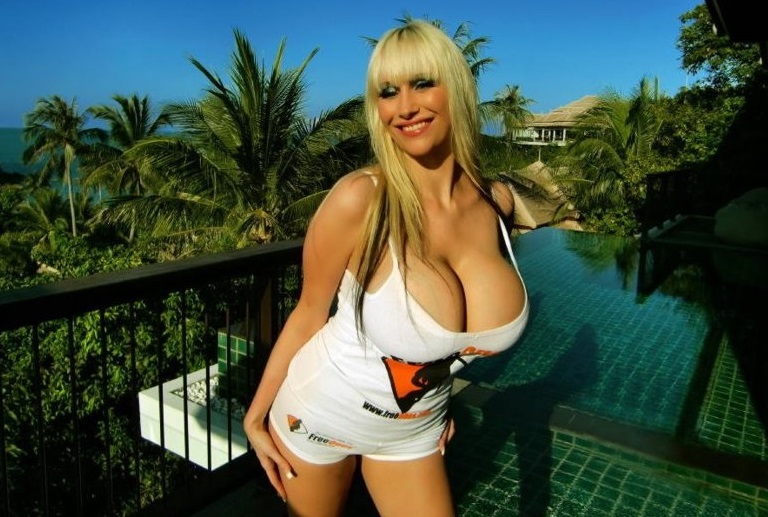 A blonde beauty, hailing from Germany with a rack to die for, oh yes we're speaking of Sandra Star. Her long slender legs and tall frame truly complement the huge fake tits she has to dazzle us all with. Sandra has worked exclusively for DDF Busty and Score through a major chunk of her career and is quite a 'star' in the adult industry, as already apparent from her name. Facials, double penetration and tit fucking are just a handful of her long list of on-screen expertise. Role playing has also been a keen interest of hers, with roles ranging from naughty nurse to hot nerd, her huge heavy breasts have been through it all!
#5 Kayla Kleevage (59II)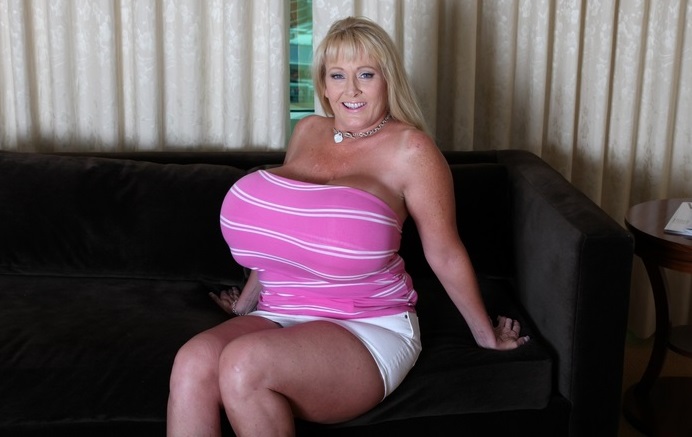 Well with a second name of cleavage, oops 'Kleevage', we bet you already know how this mature MILF earned her spot in this list. This lady got her massive boobs even before they became the norm and was held as quite the 'boob goddess' in the 90s with some of the biggest fake tits imaginable. She has PP 'string' implants and a bra size of 59II. Her career has seen numerous twists and turns as she has spent her time as a porn star, model, escort, actress and director. Kayla specializes in double penetration and watersports. Older Woman Fun, Extreme Movie Pass and Puba are just a few online platforms she has appeared on.
#4 Annina Ucatis (42G)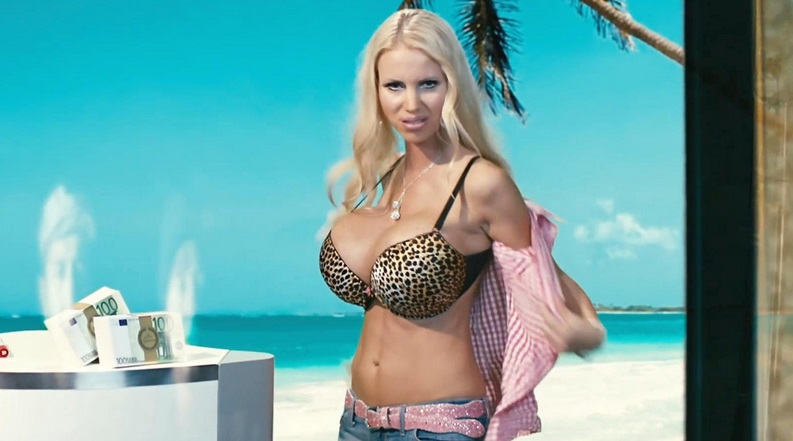 Annina is a German adult model, porn star, television personality and former real estate agent. Huge heavy tits paired with such a multi-talented personality make for a complete package. Starting off with a natural C cup, Ucatis first went for surgery in 2004, this made her a D cup. Only a year later, she did it all over again to become a DD cup. For the third time, she had to travel to Spain for her operation as German surgeons denied it to her and she finally got the huge fake boobs that she longed for. She is frequently seen working for the adult studio Amateurity.
#3 Dolly Delight (32J)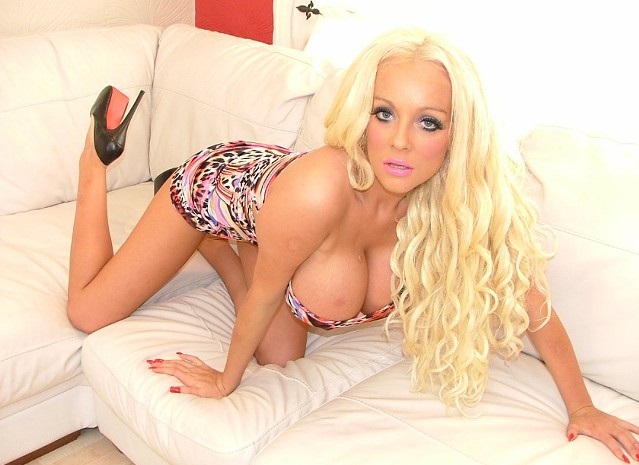 It would be a shame if we talked about the biggest tits in porn and somehow forgot to mention Dolly Delight! Originally of English descent, this blonde babe has got all the right curves that a girl ought to have. Her huge fake boobs are a stunning 32J and eyes blue. Brazzers Network has a lot of featured content on her, with categories ranging from Lesbian to Watersports, and from Bondage to Fisting, variety is something she doesn't lack. Dolly has also worked for Stiffia and Shebang.
#2 Elizabeth Starr (36L)

Well, you surely don't make it to the second spot in this list without some huge heavy tits, which you will only realize once you've had a taste of Elizabeth Starr. She is renowned for her big bust modelling, a career she landed thanks to her huge fake tits measuring 36L, a result of multiple enhancement surgeries. Like most adult actresses, she started off with softcore performances, which were soon taken over by hardcore and lesbian scenes to boost her career. Elizabeth runs her own website and has exclusively worked for Star Productions in the past.
#1 Minka (55KK)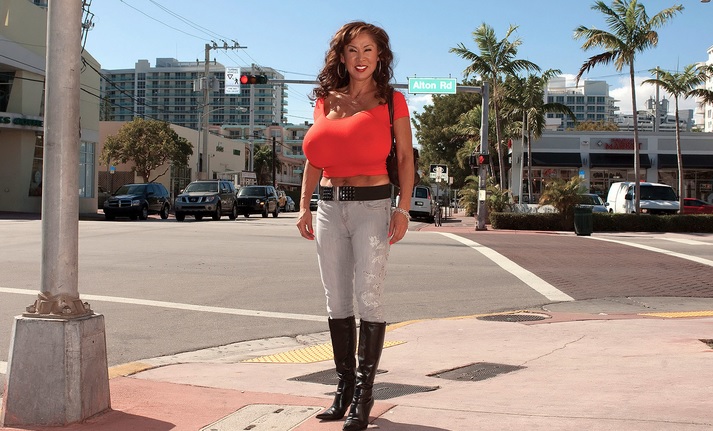 The biggest boobs in porn belong to a stunning lady that goes by the stage name of Minka. This compilation wouldn't be any fun if we didn't add a dash of foreign beauty, would it? This busty cow hails from South Korea. Like most other actresses featured in this list, she is also a mature porn star more popular for her roles in the MILF category. Her huge heavy boobs measure up to a smashing 55KK. Her golden brown hair and thin waste really complement her looks. Minka loves role play and has appeared in countless different scenario based pornos.
And that's it folks! We take our hats off for them as contrary to what many might think, it's anything but easy to carry around a set of huge heavy breasts. Just think of all the back injuries they might suffer from. One way or another, they do it for you somehow. Adult entertainers often go the extra mile to give their viewers what they want.
This surely goes for the ladies with the biggest fake tits around. Only Hitomi Tanaka and Lucie Wilde are without plastic surgery. The others have had one or multiple procedures done to get the biggest fake boobs we get to see. If you loved this overview, make sure to catch our other tits and porn related compilations below:
- The Best Big Natural Tits
- The Best Big Fake Tits
- The Best Asses in Porn
- The Best Porn Parody Movies
- The Hottest Teen Pornstars
Share on social media: